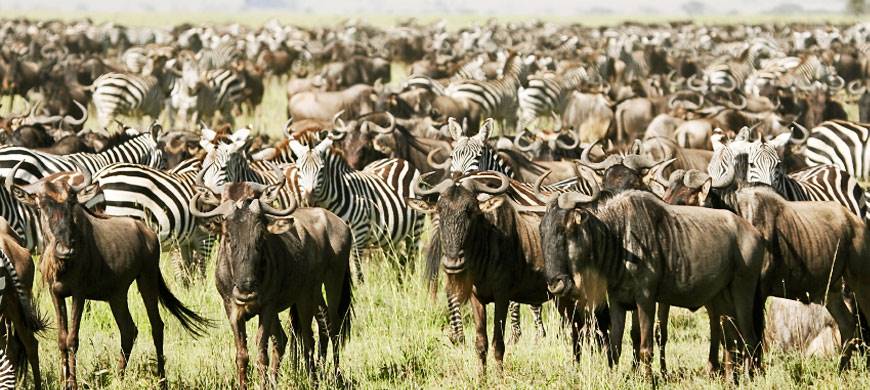 5 days Northern Tanzania Safari
| DURATION | DESTINATIONS | PRICE | ACCOMMODATION TYPE |
| --- | --- | --- | --- |
| 5 Days 4 Nights | Manyara, Serengeti, Ngorongoro | USD | Camping |
This unforgettable Tanzanian safari will enable witness an amazing spectacle of African wildlife – inside a self-contained world teeming with animals. The tour will further take you to the Serengeti National Park, into the heart of wild Africa, a massive wilderness of 14,500 square km, where every day brings a new landscape and a new adventure. The Lake Manyara National Park, one of most dramatically wildlife areas, consisting of a shallow but huge soda lake at the foot of the Great Rift Valley's.

Day 0: arrival in Arusha Kilimanjaro airport
Meet and greet upon arrival here at JRO as per your flight schedule 
You'll be met by our native Arusha representative who will then drive you to your Arusha hotel booked you.
The rest of the afternoon or evening will be at leisure.
Day 1: Arusha to Lake Manyara National park
Non game-viewing travel time: 2½ hours
Distance: 130 km

Pick up from Arusha hotel in the morning (07:30am) followed by a transfer to Lake Manyara national park.
We arrive in time for lunch at the camp and after lunch do we head into the Lake Manyara National Park for an afternoon game drive. This national park is one of Tanzania's most dramatically located wildlife areas, consisting of a massive but shallow soda lake (covering two-thirds of the park), located at the foot of the Great Rift Valley's western escarpment. The park's varied habitat attracts a wide variety of animals, including one of Africa's largest concentrations of elephants, Lake Manyara's unique tree-climbing lions, as well as large flocks of flamingos attracted by the algae in the lake.
Dinner and overnight at the camp.
Main destination: Lake Manyara National Park
Accommodation: Budget camping Bordering Lake Manyara NP without fences
Meals & drinks: All meals included Drinking water (Other drinks not included)
Day 2: Lake Manyara to Serengeti Plains
Non game-viewing travel time: 5 hours
Distance: 205 km
after breakfast we head towards the Serengeti National Park via the beautiful high lying farmland of Karatu and the Ngorongoro Conservation Area. Leaving the highlands behind, we descend into the heart of wild Africa – the Serengeti National Park – with its endless plains, rolling into the distance as far as the eye can see. We head to the central park area, known as the Seronera area, one of the richest wildlife habitats in the park, featuring the Seronera River, which provides a valuable water source to this area and therefore attracts wildlife well representative of most of the Serengeti's species.
We arrive in time for lunch and enjoy an afternoon game drive in the Serengeti national park.

Dinner and overnight in the Seronera area campsite.
Main destination: Serengeti National Park
Accommodation: Budget camping Bordering the park without fences
Meals & drinks: All meals includedDrinking water (Other drinks not included)
Day 3: Serengeti national park
Today game drive will be a long the Sogore River Circuit which loops into the plains south of the Seronera River and which is good for viewing Lion, Thomson gazelle, topi, ostrich and cheetah sightings.

In the afternoon we will follow the Kopjes Circuit, which goes anti-clockwise around the Maasai Kopjes, which usually attract a number of lion and some formidably large cobras. Kopjes are weathered granite outcrops, scattered around the plains, most of which are miniature ecosystems, providing shade and drinking water in pools left in the rock after the rains. This makes the kopjes particularly good for spotting wildlife in the dry seasons – including lions, which like to lie in wait for animals coming to drink!
Main destination: Serengeti National Park
Accommodation: Budget camping Bordering Serengeti NP without fences
Meals & drinks: All meals included Drinking water (Other drinks not included)
Day 4: Serengeti Plains to Ngorongoro crater
Distance: 145 km
after breakfast at the camp we depart for Ngorongoro Conservation area. We will stopover at Olduvai Gorge boasting with a history dating back to the dawn of time. It was here that the anthropologists Dr. Lois and Mary Leakey discovered the skulls of 'Nutcracker Man' and 'Handy Man', both very significant links in the chain of human evolution.

After lunch descend over 600 meters into the crater to view wildlife for a safari tour. Water supply and fodder, the Ngorongoro National Park supports a vast variety of animals, which include herds of wildebeest, zebra, buffalo, eland, warthog and giant African elephants. A big draw card to this picturesque national park is its dense population of predators, like lions, hyenas, jackals, cheetahs and the ever-elusive leopard, which sometimes requires a trained eye to spot. We will visit Lake Magadi, a large but shallow alkaline in the southwestern corner which is one of the main features of the crater.
Overnight at the camp.
NOTE: If time is not a limiting factor, I would recommend extending game viewing in Serengeti and then just drive to the crater for a night. The following day descend into the crater as from 06:30hrs down to 15:00hrs when the crater is closed. Why am I recommending this? Simply because if you opt to descend into the crater on this day 4 after traveling all the way from Serengeti, you'll both have limited time within the crater before its closing time than descending on Day 5 early in the morning and explore fully with picnic lunch boxes, later exit and travel safely back to Arusha where safari ends on day 5 between 16:00 hrs to 17:00hrs.
Main destination: Ngorongoro Crater
Accommodation: Budget camping On the crater rim of Ngorongoro
Meals & drinks: All meals included Drinking water (Other drinks not included)
Day 5: Ngorongoro crater to Arusha
Non game-viewing travel time: 4 hours
Distance: 190 km

Enjoy breakfast, after which we will transfer back to Arusha. Upon arrival in Arusha will we have lunch and then we will end tour. You will be driven to your hotel, which ends our safari services.
(This will be followed only if you descend into the crater on Day 4 above. Otherwise if you both follow my idea of extending a game in Serengeti there after travel for a night at the crater rim on day 4, then this will be a day to explore the crater till late when it closes).
Main destination: Arusha
Accommodation: End of tour (no accommodation)
Meals & drinks: Breakfast & lunch (Dinner not included)Drinking water (Other drinks not included)
End of tour
Additional accommodation can be arranged for extra cost.
You'll be dropped off at the airport (or hotel).




Package Includes
Hotel / Hostel Pickup

All meals noted in the itinerary

Transportation in standard game viewing safari vehicle complete with pop-up roof for easy viewing and photography.

Your driver/guide speaks English and has in-depth knowledge of the flora, fauna, landscape, and Kenyan culture.

A minivan outfitted with two-way, long range high frequency radio communications equipment.

Bottled mineral water during game drives

Park entrance fees and game drives as noted in the itinerary.

All government taxes, levies, and fees

Pick up and drop off transfers
Excluded
Domestic and international airfares and departures taxes

Personal communications charges for telephone calls, faxes, email, etc.

Tips and gratuities for your driver/guide.

Alcoholic and non-alcoholic beverages.

Laundry services

Between meal snacks, parks, attractions, and events not included in your itinerary